Letter of the President
Dear Colleagues,
Dear Friends,
"Why, Sir, you find no man, at all intellectual, who is willing to leave London. No, Sir, when a man is tired of London, he is tired of life; for there is in London all that life can afford."
With these wise words of Samuel Johnson, a famous English writer of the 18th century, I would like to welcome you to AIJA's major annual event, the 53rd AIJA Congress in London. The Congress will take place between the 1st and 5th September.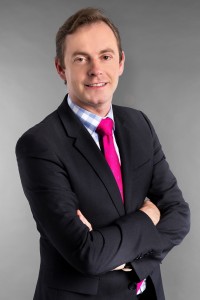 The AIJA Congress is the annual highlight of our young and dynamic international organisation. Hundreds of young lawyers from every corner of the globe gather to share and develop their academic knowledge, participate in excellent networking opportunities (e.g. the speed networking session) and enjoy the top social program for which AIJA is so famous.
The enthusiastic members of the Organizing Committee will make sure that this Congress will be unforgettable. They couldn't guarantee that I will jump out of a helicopter with Her Royal Highness during the opening ceremony, but I am sure the historic venues that are foreseen for both the opening ceremony and the gala dinner will be unique.
Our fantastic team of Work Coordinators, consisting of Henna Kinnunen, Ferenc Ballegeer and William Healing, are making sure that the good quality of the scientific program is maintained. Through a variety of working sessions and workshops every participant will find something to his liking. Traditionally there will again be an optional pre-Congress seminar, skills training and a free private session with a professional career development coach for every participant.
As the Congress venue will be in the middle of the City, just next to St Paul's Cathedral, it will also be easy to discover the city or to do some excellent shopping during your spare time.
Finally we count on YOU, members and first timers, to make this Congress a big success, and spread the word, because …..WE are AIJA!
See you in London…..and bring some young lawyer friends to share the unique AIJA spirit.
Dirk NUYTS
AIJA President